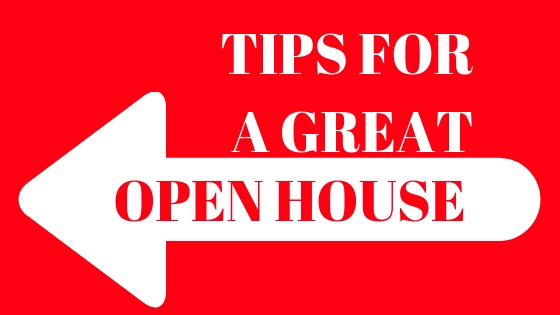 Whether you are a home owner or a real estate agent, open houses are a great way to show off your home to potential buyers. To make the most out of your next open house here are some tips to make it even better.
1. No scent is best.
Recent studies show that scents, even pleasant ones, can be irritating to most people. Avoid adding any unnecessary smells to the home like candles and air fresheners. Instead, shampoo carpets, open windows to let in fresh air, deodorize appliances to make the home as odorless as possible.
2. No clutter.
Too many things in a home can cause a buyer to focus more on those items then on the home itself. Clear out personal items and store them away in a storage unit. If you are an agent, ask your home owners to clear out their homes in preparation for the big day.
3. Clean the closets
Have your clients, or yourself if you are the owner, to clean out the closets. Many people might not think about it but closets are a very important feature of a home. During an open house many buyers will want to open closet doors and check the available space. Cluttered closets would be a turn off to many buyers because it shows a lack of storage space in the home.
4. No evidence of pets
Pets are wonderful additions to the family, but during an open house not every buyer wants to see or smell evidence of them. Clean up their toys and other belongings. Encourage homeowners to remove their pets from the home during the open house, for the safety of others and the pet.
5. No owners.
There are no benefits from the home owner being at the open house. It can actually make things worse and you can lose the sale of your home. Encourage the owners to go out for the afternoon. This is a great chance to spend some time together as a family.
6. Close the toilet lids.
Just close them.
7. Light
Rooms appear larger in bright light. Open windows, play with lighting, before the open house to find the best way to show off each room.
8. Give information in a different way.
This is the age of technology, where everything is online. Still, people crave something physical. Create flyers of the home with all the important information highlighted. Buyers are more likely to to make an offer when they have something to remind them of the home, something they can hold in their hand.