Testimonials
Thank you Exit Realty for leading the way in the sale of our property. You made the transaction easy for us and we are most appreciative of all your efforts. Thanks Donnita and team......you guys are the best!

I appreciate all the attention and courtesy from the entire staff,. As a person who values honesty and forthrightness I was never disappointed. I can highly recommend Exit Rocky Top and in particular Donnita and Kim to anyone needing real estate services.
We want to thank you both for your kindness and true professionalism throughout this process. We could not have asked for a better experience, and we attribute it choosing to work with your team.

A month and a half ago I had no idea I would need to act this quickly to move my Grandfather in with us in CA. After arriving there and finding him in an emergency situation yet again, I realized it was no longer safe for him to continue living alone. While it has been a rapid change for him, he is happy to be here and very relieved to know his house is sold and will bring joy and memories to the new owners.

Thank again for all you have done for us, we could not be more grateful and appreciative!
We were so pleased with our business relationship we had with Donnita Hill and her team. They were very professional and "on spot". Our home sold within 24 hours of us signing the listing with her. We would recommend her team to anyone!
We recently sold our home located at 107 Glen Abbey Drive in Cookeville, We had it listed for months with another realtor but no offers and very few showings. We then decided to call Donnita Hill with Exit Reality she came very enthusiastically and showings began immediately. Within 1 month she had our home under contract with a closing to follow in 30 days. Jenny and I couldn't be happier with Donnita and her team. It's obvious why she gets the results she does. Thank you for making it happen as you said you would!
We closed our home this week and my family could not be happier. When our listing agent, Donnita Hill with Exit Reality looked at our home after it had been on the market for a long time with another Cookeville Realtor, we saw activity immediately after she listed it. Couldn't ask for a smoother closing and extremely helpful staff. Donnita will be the only Realtor we will ever recommend to family and friends. I now see if you want something done, call the busiest professional you know. The results will surely follow!!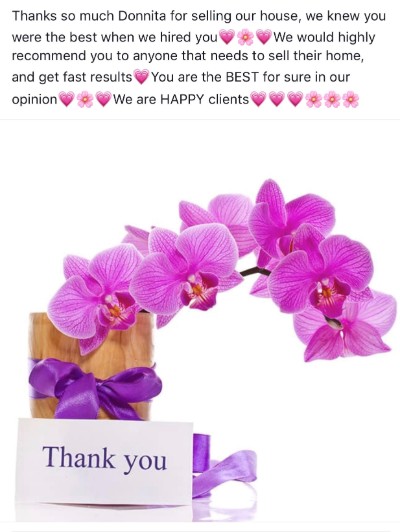 Thanks so much Donnita for selling our house, we knew you were the best when we hired you. We would highly recommend you to anyone that needs to sell their home and get fast results. You are the BEST for sure in our opinion. We are HAPPY clients.
Donnita with Exit Realty was very professional, knowledgeable, and brought in an offer which was our asking price within 3 days! I can recommend Donnita for peace of mind when selling or buying a home. We are so thankful to have had Donnita represent us in the sale of our home. She's the best!
In thinking of selling my home, I interviewed Realtors and there was one that "stood out" from all the rest. That is why I chose Donnita Hill with Exit Realty to represent me in the sale. Her knowledge of the market along with exceptional guidance in recommendations for getting my home ready for the market was the reason I had two full price offers & my home sold in 2 days! I am now able to move & be with my immediate family. I will always be grateful for the care and help Donnita has shown me and will always recommend her to all I know who will be selling.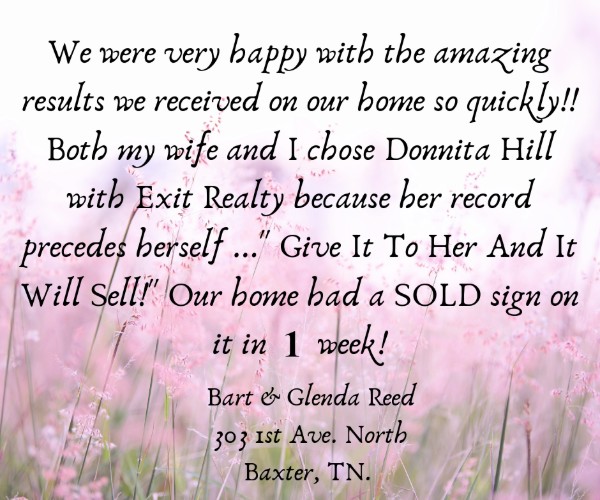 We were very happy with the amazing results we received on our home so quickly!! Both my wife and I chose Donita Hill with Exit Realty because her record precedes herself..." Give it to Her and it Will Sell!! Our home had a sold sign on it in 1 week!
Donnita, just a note to say what a great team you have. Everyone has been so helpful with anything we have asked for and always a big smile when we go into the office.
Kim has been so good to keep us informed on the progress of our closing date in the very long process. Special thanks to her.
Donnita, as always we consider you a special friend and always look forward to talking with you. We always recommend you and will always use you as our Realtor.

Your Friends,
Shirl & Lenora Allen

1313 Bridle Path
We build them... and you get them SOLD! Thank you for always working hard and going the extra mile to get it done. Great negotiating, plus great knowledge of the market is always what you bring to the negotiating table.


Thank you, Chris Montgomery, Montgomery Brothers Construction
5500 Burgess Allen Road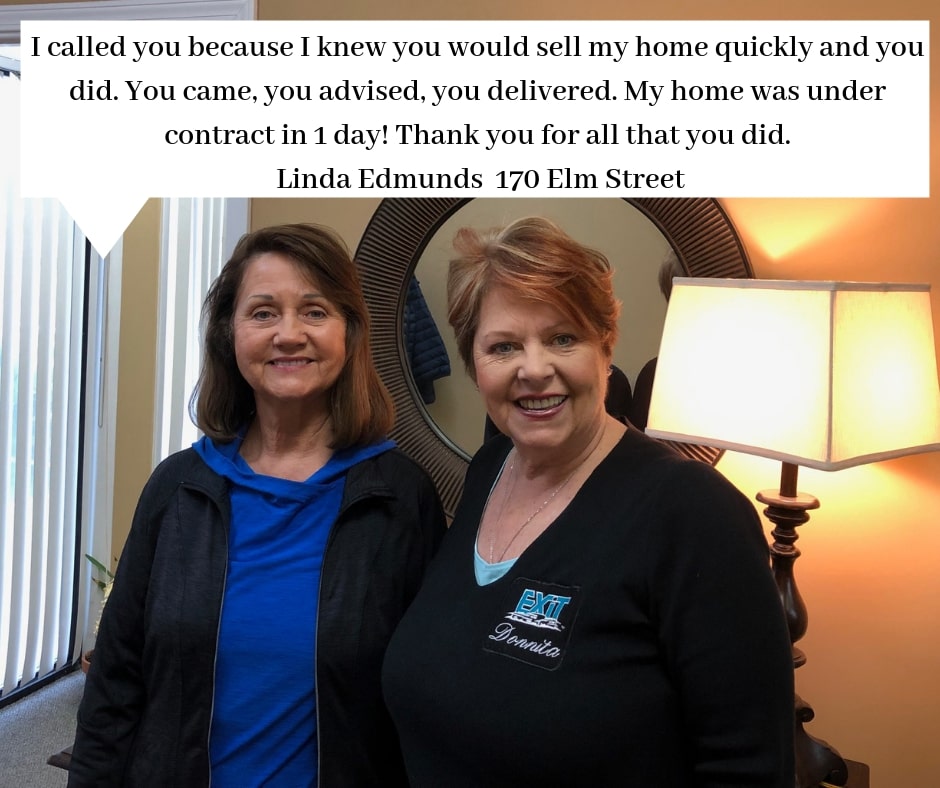 I called you because I knew you would sell my home quickly and you did. You came, you advised and you delivered. My home was under contract in 1 day. Thank you for all that you did.
We listed our waterfront home with who we know is the very best in the business, Donnita Hill, Exit Realty. The amount of activity we experienced was excellent and the marketing of our home was incredible. Known as the "Toughest Negotiator In The Real Estate Business, Donnita proved her knowledge and abilities very well! No doubt, we will recommend Donnita to anyone looking for amazing results and outstanding integrity. Thank you from the bottom of our hearts for a job WELL DONE!
I just closed my home located at 4372 Big Orange Drive in Baxter and could not be more thrilled with the results. I knew when I called our Realtor of Choice, Donnita Hill, that we would have excellent activity plus a sales price we are pleased with. Within 2 weeks of our home going on the market just before the Holiday Season our home was under contract in a time that one might not expect such an outstanding sale on a home. Our offer was negotiated on a Saturday night at 7:00pm when most folks don't even think about work. Our tenacious Realtor didn't mind the late hours or the much needed communication on a weekend! There is no doubt who we will recommend to others for the choice of a great Realtor with a hard-core work ethic. She is the Best in our book and we truly appreciate her " Get-It-Done Attitude". Sincerely Bert Merritt
Thank you again for your efforts with selling our home. Your team was awesome throughout the process! The selling of our home went exactly as you said from the beginning which is a testament of your expertise in this market!
Thank you again!
Donnita Hill with Exit Realty, and closing assistant Melodee have made selling our home so easy! Every detail has been taken care of and we've been informed of the progress throughout. It's been such a pleasure to do business with y'all and you have our recommendation to anyone wishing to buy and sell.

When we build a home, we always call Donnita Hill with Exit Realty. We know there will be a SOLD sign in the yard SOON and that is always what happens. She listed and sold our latest home at Meadow Brook Drive in a really short time frame! We always know that we can depend on Donnita because she's the best!!
What a pleasant experience to deal with a Realtor that proved there would be fantastic results with her extensive marketing efforts and passion to do her very best for those she represents. My family chose Donnita Hill as our Realtor for 1 specific reason... the recommendations from others in the Upper Cumberland and the amazing # of years she has proven to be the best in the business. My family will always be grateful for all the extra time and tireless efforts she showed throughout the listing and selling process. Our farm sold for cash and closed quickly. Nothing better than those results.
The words THANK YOU always spring to mind when thinking of you and what you have meant to me and my family these past few months! Buying our new home with you was such a wonderful experience(!) yet to your credit your SELLING our old home so quickly and pain-free has been equally rewarding and I will always be your number one advocate when it comes to recommending real estate professionals. You and your team are simply the best and Dina and I are so glad to call you all friends. Thank you!!!

We needed to sell my mother's house in Cookeville and I knew I only had to make 1 call. That was to Donnita Hill at Exit Realty. Within 8 hours my sis and I had 8 offers and with the offer we took being $5000 over the listed price! All I can say, " If you're planning to sell any of your real estate give this lady a call!! She doesn't mess around and she will get you top dollar!!
Our neighbors suggested Donnita Hill, Exit Realty when we decided to put our home up for sale, and it was a wonderful experience. The home was sold in less than a month to the first family that looked at it. Price was very much acceptable, and from there forward our worries were gone, Melodee did a great job of keeping us informed of all the detail, and made it easy for us to concentrate on our new home. Thanks so very much to Donnita and her staff.
We had our home listed last year with another agent in Cookeville. When it didn't sell, we asked for recommendations for an excellent, reputable Realtor. Well, the results came in very quickly after we received more recommendations for Donnita Hill with Exit Realty in Cookeville. After meeting with Donnita, I immediately said, "No worries, we are in great hands." Her marketing plan was fabulous and showings started immediately. We had 4 offers with the final accepted offer being exactly what Donnita predicted it would sell for. We not only gained the best Realtor to rely on but a life-time friend, also. All we can say to anyone needing someone to represent them on any type of real estate can call the BEST because we were truly blessed to have her in our corner to be the strong negotiator that she is. You'll be surprised at the difference she will make for you!
A special Thank You to the real estate professional we chose to deal with. We had our home on the market previously with not much activity. Several people told us to call Donnita Hill and she'll get it SOLD for you. So sure enough, the following week we called her and she quickly responded to us to meet with us to discuss the market and to recommend pricing and suggestions for our home. Her marketing was outstanding and sure enough we closed our home yesterday and we are on our way to Colorado next week! We will always be grateful for this fine Realtor, Donnita Hill with Exit Rocky Top Realty here in Cookeville.
Thank you for all your help with the closing of my mother's house. Overall the process went smoothly. We plan to use Donnita Hill with Exit Rocky Top Realty again in selling our house. Thanks for all the advice and follow-through. I now know why you are highly-recommended to get the job done!! You sold our home in 1 week!
I was helping a very dear friend of mine sell her home, have movers pack and transport her furniture and close on the sell of her home, all while my friend was out of town. My friend gave me Power of Attorney to complete this task in her absence. I was very nervous assuming this responsibility. We chose Donnita Hill at Exit Rocky Top Realty to handle the sell. Donnita was wonderful. She explained the process, assured me that everything would be handled very constructively. The home sold the 2nd day after it was listed. Donnita and Melodee were very professional and thorough throughout the process. As Power of Attorney for this sale, Donnita and Melodee made it so easy for me to finalize the sell for my dear friend. I would highly recommend Donnita and her wonderful staff to handle any real estate transaction you may have.
My family wants to sincerely say, "Thank you", for how diligently you handled the details on the purchase of our new home, 1120 Country Club, during a really tragic time for the seller. You and your staff brought all the final ends together so smoothly and made both the seller and our family feel like we were the only buyers and sellers you were helping. We certainly know better than that. We look forward to another sale with you soon. We are so grateful.
We put our home on the market with Donnita Hill, Exit Realty, in Cookeville. When we did an original walk-through on our home, Donnita said, "O.K., I've got this let's sit down and discuss the listing price." Within a couple of minutes, Donnita recommended $389,900 and said, "No worries, it will be SOLD in a week. Well, sure enough, 2 days later, she called me and said, "It's SOLD and can you all be out at closing in 30 days??" I said, Well sure, what is the offer?" Donnita said, "FULL PRICE WITH GREAT EARNEST MONEY!" We have always chosen Donnita as our Realtor and she always does an incredible job!! It's obvious why she is the best in the Upper Cumberland!
Thank you for being my Realtor. Moving from Chicago to Cookeville, you made the experience simple and no hassles to find just the right house/home at just the right price in a very short timeframe. Thank you again for your enthusiasm and patience in my purchase and relocation experience.
All I can say is " There is no doubt that Donnita Hill should be referred to as " The Closer" I began trying to sell my home myself and it became very frustrating as that process continued. After 4 weeks, I began interviewing Realtors to see who could perform to my expectations. Well, I only had one that I felt could get my home SOLD quickly and for Top Dollar and that was Donnita Hill with Exit Rocky Top Realty. Her marketing was second to none and her work ethic simply amazed me. Sure enough…within 2 weeks, Donnita brought the buyer and brought me a full price contract. I just got out of her way and watched her go. Melodee and Katherine were both so helpful and very professional. I am 1 Happy Seller and will sing her praises to all my friends and family. Thank you so very much!"
My wife and I were thinking of moving to Colorado to spend our last chapter with our daughter. We decided to interview Realtors to list our home with. After talking with four other Realtors in this area, we checked off the boxes for whom we felt were most qualified for the job. At the end of the week, our decision was very clear. Our Realtor would be Donnita Hill with Exit Rocky Top here in Cookeville. Our house sold quickly as just for the price our Realtor predicted it would! Very pleased with her and the tremendous effort she put in getting the job done.
Thank you, Donnita and team for selling my home so fast( within 24 hours) and selling it as an "over-bid". You sold my other home very fast too and I sure know who I will call the next time. You made this "quick and easy". I appreciate your knowledge and hard work.
Everything was fantastic and you and your team were very helpful. I gave a few different people your cards that were looking to move to this area. We are so happy with our new home and should there be another time we need to sell you'll be my first call. Thank you from the bottom of our hearts.
We would like to thank Donnita Hill for her tremendous and outstanding approach to the selling of our home. One of her strongest attributes is the staff she has surrounding her. Katherine and Melodee each have the most professional, sincere approach to each contact we have made. The old adage 'they make ya' feel like family' is so true with them; they are a pleasure to work with. We are a family that loves pets..dogs..cats..and birds. Donnita advised us through the entire process, what we should do and it worked like a song. We received an excellent offer, that Donnita brought us from very qualified and wonderful buyers. Our hearts will always be grateful to this very knowledgeable and caring team.
This was the first experience for us in the selling of a home. Donnita had come highly recommended to us, and she and her team were great to work with. They walked us through the process step by step and took care of everything. We went under contract exactly one month from the day we signed with her. The entire transaction was virtually seamless! We would definitely recommend Donnita to any friends and family.
When I decided to sell my commercial property here in Cookeville, I did my due diligence in checking results and getting recommendations. The Realtor I chose is Donnita Hill with EXIT Realty here in Cookeville. Everyone I discussed this decision with said, "All I can say is if you have been the Top Realtor for 38 years, there's a reason for that!" My other question was, "Will I have to lose money because I have only owned it 3 years?" The answer I received back was, "This lady wouldn't be doing the volume of business she does if she didn't make folks money – she wouldn't have the amount of business she does!" Well, they were absolutely right… She was a tiger at negotiating the offers and YES, she made me money… I had two offers the same week!! Hands down, Donnita Hill should be your Realtor! Quick results – Top money!
Last but not least, THANK YOU ALL!!!!! Could not have done it without you!! I may need you all's help again in the near future. I hope you will let me come back. 🙂 Sorry for any problems, all were unexpected but you handled it like the pros I knew you to be. You all were troopers and the absolute best!!
EXIT Rocky Top Realty from start to finish has been able to provide exceptional service. Donnita was available on a moment's notice for a showing. We had constant changes to our sale, and the closing desk was always on top of the situation to help us bring our purchase to a successful closing.
Donnita Hill and her team provided us with exceptional, professional service upon our relocation to Tennessee. For busy executive families with high expectations looking for quality realtor services equal to the best anywhere in the country, choose Donnita Hill.
We are so very pleased with the results that our Realtor, Donnita Hill with EXIT Rocky Top Realty, provided for us. The marketing of our home was phenomenal and our activity was really good. We sold our house for cash and at full price!! No one compares to the knowledge and results that our Realtor and her team provide. We will always know who we will recommend and call should we need a Realtor in the future.
Within one week we had an offer for the full asking price! This is a great sales team with tremendous knowledge of the business and amazing service from the day our home was listed! Would I recommend Donnita Hill and use this Realtor again? You betcha!!
Deals are difficult to find and close in this market. The listing posted late in the week, Donnita answered the call on Saturday morning, we viewed the property on Saturday afternoon, and we detailed the offer for submittal before I returned home that day. Her team did a great job submitting the offer on Monday morning and by the grace of God, we had a contract against multiple offers Monday afternoon. Donnita showed unbelievable responsiveness and did a great job working through the details to get the deal closed when other bids were being considered. It takes a top-notch Realtor with exceptional negotiating skills to get this accomplished! We thank you for your hard work and persistence to get the job done for us. We are very happy buyers! Thank you to Donnita and the EXIT team.
I just left the closing of the farm I purchased and my wife and I are so happy and pleased with the entire process, where every detail went exceptionally well. The seller told us how completely happy she was with the expertise and tremendous care that our Realtor, Donnita Hill, provided us. I paid full price and was happy to do so. I called her at 8:45 pm and she answered the phone like it was 8:45 in the morning. She was always available for us throughout the purchase!! When there is a need for a Realtor again, there is no question who we will call. Thank you, Donnita, for making my birthday the best one ever…I bought myself a farm!