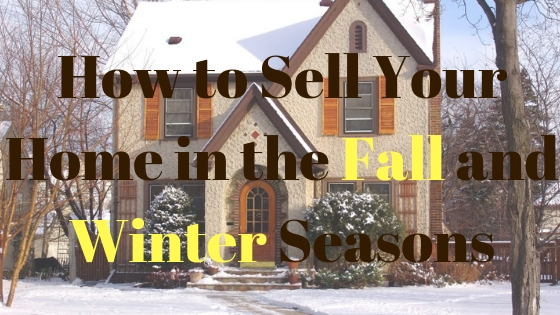 As the seasons grow colder selling your home may become harder. People are less likely to want to get out and shop for a house in the cold weather, but there are few who will be out looking and you know they are serious about purchasing a home. We have put together some tips to really make your home stand out to those buyers.
Tips for Selling in the Fall
Fall can really be a hit or miss season, with most young families not wanting to move in the fall, it is the older generations that are looking to make the move.
Some tips to make your home feel inviting and add curb appeal to bring those buyers in:
Add seasonal decor to the outside of your home. Around this time of year many places are having sells on their fall decor or you can easily create your own decor. Keep it simple with a few pumpkins or mums, and a decorative welcome sign.
Another tip to create curb appeal for your home is to paint the front door a bold color. Keep in mind the exterior of your home when considering a color, you want everything to look cohesive.
Bring the decor inside with festive throws folded beside the fire place or over a chair, leave a fall scented candle out unlit with other simple yet elegant decor items like fall pillows for the couch. If you have a fireplace highlight it with kindling, a clean mantle and fall foliage. If you can turn it on, have the agent in charge of turning it on and off when showing the home.
While decorating your home is a great way to make it feel festive and welcoming there are other things to maintain around your home to make it look its best. Keep your yard clear of scattered branches and rack up leaves so buyers can see the yard better. Unclog gutters of leaves and other debris and make sure the roof is in good shape. Not only does this make the home look better but you also don't want to have to deal with any leaks from a backed up gutter and a leaky roof during the cold winter.
Now is the best time to take fall pictures of your home. One of the best ways to market your home is to take seasonal exterior photos, that way buyers can see the home in every season and since your home is already decorated for fall now is the perfect time.
Tips for Selling in the Winter:
The winter season is the slowest season for selling homes. Get your home ready to sell ahead of time, and after the holiday season is over and the market gets busy again, you will be ready.
During this season many homes are not on the market so take every showing of your home seriously. A buyer who is out looking in the snow covered cold of winter is a serious buyer. Use these tips as a check list to have your home ready for those potential buyers.
Prepare your home for the coming cold by inspecting the ventilation and insulation in the attic of your home. As a general rule of thumb the insulation should be at a high enough level that you can not see the joists beneath it.
If you are leaving for an extended period of time during the holidays it is best to winterize your pipes by turning the water off at the source and open the faucets to a slow but constant drip so the pipes don't freeze or burst.
Make sure to check and clean your chimney and fireplace if you have one. Dirty chimneys can be a fire hazard. Before cleaning out the chimney make sure no animals have made themselves at home there. In many cases it is best to have a professional inspect and clean your chimney.
The holidays are a wonderful time to get festive and decorate but keep in mind you are trying to sell your home not show off your decor. Keep things minimal. That means no blow up Santa on the lawn or flashing holiday signs on the roof. Keep the inside decor minimal as well, you want the buyers to be able to see the beautiful features of your home.
Another tip to consider is having a place for buyers to put their coats and shoes when they come into the home. Consider adding a coat rack, if you already have one keep it cleared so your coats don't get mixed in with theirs or feel like they have to carry them around, and a shoe tray to take off wet boots in.
Turn up the heat in your home during showings. You want buyers to feel cozy, not chilly and trying to make it through your home as fast as possible.
We know selling your home during the colder seasons of the year can be challenging, that's why we have created these helpful tips to get your home sold.